Love is a mix tape:

Life and loss, one song at a time b
y Rob Sheffield
I ordered this book as soon as it came out in 2007 and devoured it in a couple of day's time. This book is about mix tapes and looking back and reminiscing. Each chapter starts off with a fresh mix tape filled with some amazing, refreshing, ridiculous, and bizarre songs; every tape has a specific date.
"A shy music geek named Rob Sheffield met a hell-raising Appalachian punk-rock girl named Renée, who was way too cool for him but feel in love with him anyway. He was tall. She was short. He was shy. They had nothing in common except that they both loved music. Music brought them together. And it was music that would help Rob trough a sudden, unfathomable loss.
"
– Taken from the publisher comments in the book-.
Rob loved Renée in the most pure way you could love a person. He writes about everything from their first meeting, to their relationship, their marriage and her sudden death at age 31.
He relates it all with music. A special soundtrack for each part.
He uses the song on fifteen mix tapes to tell the story.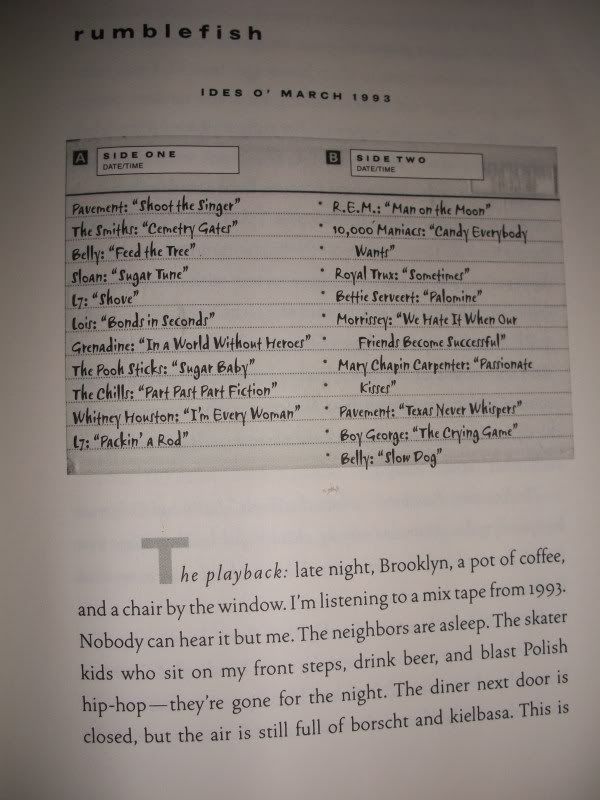 Mix Tape #1
This book is so much more than real life love chronicle so don't dismiss it if you're not into love stories. I discovered so many new favorite songs because of this book; so many new bands; you also get an inside look into the 90's music scene and pop culture.


One of my favorite chapters of this book is

"How I got that look"

pages 118 -130. The mix tape for this chapter has everything from Pavement, to Hole, The Offspring, Veruca Salt and many, many more. It starts off with:

"The spring of 1994 was marked by two key events in rock history: the death of Kurt Cobain and the birth of Zima"

and then it continues describing what happened that summer, and about Nirvana's Unplugged from how it begins to very interesting details and observations.
Mix tapes are pretty much ancient history being with the birth of cds, ipods and other creations but still the feeling and sentiment of creating a list of various songs for someone or even yourself is amazing. I enjoy making my own playlists might it be on itunes or burning cds.
I recommend this book 100%
I leave you guys, with one of my favorite songs featured in the book:

R.E.M - Man on the Moon.